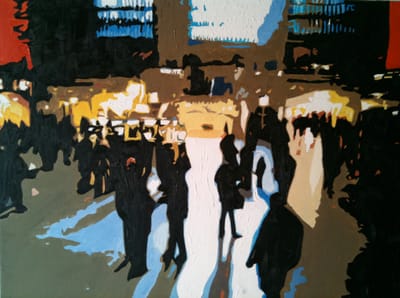 I am a 61 year old artist living in Norwich, I have always drawn and painted from a young age, but trained as a registered nurse and midwife and went on to be ward sister at Westminster hospital in London, throughout this time I painted and exhibited.

When my 2 children went to university I decided to pursue my passion and under took a BA in Fine Art and Aesthetics and then an MA in Fine Art in Cardiff, I went onto study at the Atelier school in London and have exhibited in Cardiff, Hull, London and Birmingham, and three times in the Open Exhibition of the Aberdeen Art Society.

My time has been dominated by family commitments so I have focused my world recently painting my grandchildren, one of which has Down syndrome. My most recent exhibitions have been titled 'The Upside of Downs", painting Alex from the day he was born as a story unfolding with his twin brother (who is autistic) and sister. This has been to raise awareness of Down syndrome and the positive aspects of his life, I am having two large exhibitions this year of over 50 paintings of Alex and siblings.

I paint on commission.